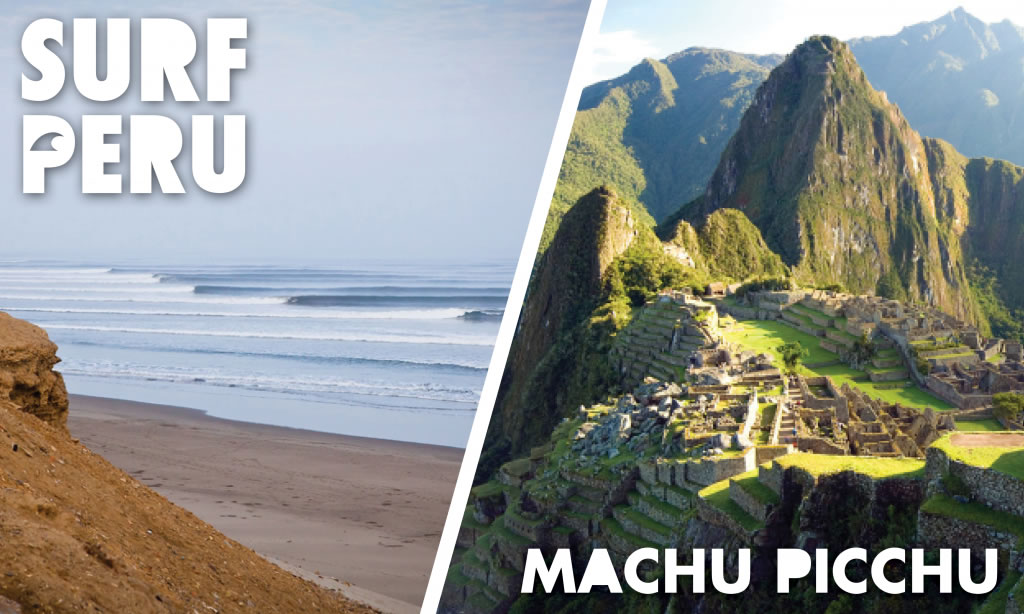 Planning to explore Machu Picchu, the ancient ruins of the 'Lost City of the Incas'? Why not explore at the best surf spots in Peru before or after you head to Cusco?
This trip will guide you to a variety of waves along the Peruvian coast and also leave time for your trek to the mystical Machu Picchu.
Team Surf Peru offers two trip options:
Surf Southern Peru
Surf Chicama, the world's longest left-hand wave, and other nearby breaks*
Your trip includes a personal surf guide who has local knowledge of every surf spot on your trip. He will take you to the best surf breaks according to the current swell conditions and weather patterns, ensuring that you will find great waves every day.
If you decide to embark on your surfing trip before Machu Picchu we will transport you to the Lima airport or bus station on the last day of your surfing experience. If you would like to start your surf trip after Machu Picchu we will pick you up from any location in Lima on day 1 of your surf trip.  We offer recommendations for the Machu Picchu portion of your travels with our tour partners.
Itinerary- Surf Southern Peru
Accommodations, Breakfast, Lunch/ snack, and dinners are included in trip price
DAY 1 LIMA
Morning transfer to one of Lima's nine surf breaks with your professional surf guide. Surf the break of your choice.
Excursion by car to Lima Downtown
Your evening is free so that you can explore Lima's nightlife, restaurants and bars.
DAY2 PUNTA HERMOSA
Surf Punta Hermosa Area: Punta Rocas, Señoritas, caballeros, La Isla, San Bartolo, Arica, Conchan, Huayco, or other secret spots. (~1.5 hours in private transport)
DAY 3 PUERTO VIEJO/ CERRO AZUL
Explore new surf breaks: Puerto Viejo or Cerro Azul. (~1.5 hours in private transport)
DAY 4 PUNTA ROCAS
Explore new surf breaks: Punta Rocas or other nearby breaks depending on surf conditions.
DAY 5 LIMA
Airport Transport (~1.5 hours in private transport)
Itinerary- Surf Chicama
Accommodations, Breakfast, Lunch/ snack, and dinners are included in trip price
DAY 1 BERMEJO
Transport to Bermejo (~3 hours in private transport)
Surf Bermejo or other nearby breaks (depending on swell conditions)
Continue traveling to Huanchaco/ Trujillo (~6 hours in private transport)
DAY 2 CHICAMA
Transport to Chicama (~1.5 hours in private transport)
Surf the legendary left-hand break
DAY 3 -4­­ CHICAMA
DAY 5 LIMA
Transport to lima (~9 hours in private transport)
Airport Transport
For rates and payment please contact TeamSurfPeru@gmail.com
Machu Picchu Recommendations